Dear Family and Friends,
Please help me with a fundraiser benefiting San Juan Hills athletics.
Every year, our school hosts the Stallion Golf Classic. Money is raised through a silent auction after the event and a golf ball drop. The 10th annual event is being held on Friday April 28, 2017. There will be a helicopter dropping golf balls at the event. The golf balls are $10 each. If a ball that you purchased finds the hole, you can win between $1,000-$2,500. There is no limit to the number of balls you can purchase. All dollars I raise go directly to my athletic program. As always, thank you so much for your continued support!!
Donate
Football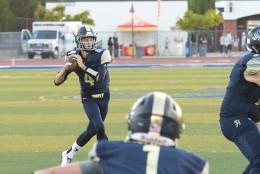 Latest Donations
Carolyn Metzler donated $50.00
To: Madison Beebe
Jenny Goffinet donated $50.00
To: Dylan Goffinet
Doug Miller donated $20.00
To: Jacqueline Miller
Kendall Rogers donated $30.00
To: Kylee Rogers
The Gottlieb Family donated $20.00
To: Kylee Rogers
See more donations..